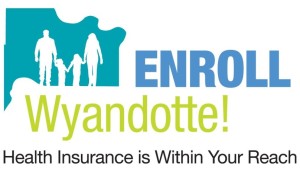 Enroll Wyandotte is a collaborative and coordinated effort of Wyandotte County based health care providers, social services, and local government to perform outreach and to assist with enrollment  in health insurance through the Marketplace.
Prior to the first open enrollment period, nearly 26% of Wyandotte County residents were uninsured. Thanks to the hard work of assisters throughout the area, in 2014 the uninsured population fell by 8%. Today, following the second open-enrollment, that number is even smaller, leaving only 12% of our Wyandotte community without health insurance. Enroll Wyandotte hopes this number continues to decrease until every eligible person in the county is covered. We aim make this dream a reality by providing fully trained support to individuals looking to obtain coverage through the Health Insurance Marketplace.
VISION
A better educated and healthier Wyandotte County that is able to make informed decisions about their health and health insurance options. We believe access to healthcare is a right, and health is the root of a productive community that can reach its highest potential.
MISSION
To improve the health of our community – focusing on the uninsured, medically underserved as well as African-American, Latino, and refugee residents in Wyandotte County – by providing education about the Affordable Care Act, how to use health insurance, and the importance of staying healthy and utilizing preventive care.
What Is Health Insurance?
A contract that requires your health insurer/insurance company to pay some or all of your health care costs in exchange for a monthly payment/premium.
But I'm Healthy, Why Do I Need Health Insurance?
There are several very important reasons to have health insurance!
For one, even though you may be healthy now, let's face it, emergencies happen and people get sick all the time. Health care without insurance can be VERY expensive – the average 3 day stay in a hospital is $30,000! A bill like that could put you in debt and ruin your credit. These high medical bills don't just hurt you, they hurt hospitals and people around you because if you can't pay your bill, the hospital has to absorb those costs, making health care more expensive for everyone.
Also, people with insurance have access to everyday services for minor injuries and illnesses at a much lower rate than those without insurance – this could mean the difference between paying $200 or $10 to see your doctor. Not to mention, folks with health insurance have access to preventative services to keep them well so they don't get sick in the future.
Finally, it's the law! If you can afford to (make above the 100% federal poverty level – see chart below) but don't have insurance, you'll be penalized on your taxes! Some people may think the fine is no big deal because the first year it was small but overtime it will go up and having the fine does not mean you have insurance. So not only will you pay a penalty but you could still be faced with HUGE medical bills.
Through the Affordable Care Act, the Health Insurance Marketplace, or the Exchange, was created to help people, just like you, find and purchase health insurance. If you don't have coverage through a job, Medicare, Medicaid, the Children's Health Insurance Program (CHIP), or another source, the Marketplace is for you.
But it can be overwhelming sometimes. That's why there is Enroll Wyandotte.
Anyone who is a U.S. citizen or national, or is a non-citizen who is lawfully present in the U.S., and is not incarcerated qualifies to purchase insurance through the Health Insurance Marketplace.
The next open enrollement session is November 1st, 2016 through January 31st, 2017. But, at any given time you may qualify for a Special Enrollment Period (SEP). Lots of events are catalysts for an SEP, including:
Your income rises above 100% of the Federal Poverty Line
You lose your employee based health coverage
Your family celebrates a birth or adoption
You move
Your immigration status changes
You get married, or divorced
You get a new job
You celebrate your 26th birthday, but only if you were previously on your parent's plan
You can sign up with us! Schedule an appointment today to meet with one of our trained Certified Application Counselors so they can walk you through the application process and explain all your health plan options to choose a plan that meets your personal and financial needs. Call today!
913-735-9008 (main line)

913-371-9298 ext.209 (English)

913-371-9298 ext .202 (Español)
Or you can complete an application online or by phone, 24 hours a day, 7 days a week online at Healthcare.gov or at 1-800-318-2596  [TTY: 1-855-889-4325.]
What Do I Need To Bring To My Appointment?
Social security numbers or immigration documents of every individual applying for coverage.
Employer and income information for every member of your household (for example – pay stubs or W-2 forms)
Information about employer coverage (if offered)
Birthdays of everyone applying for coverage
Marketplace username and password (if previous applicant)
I'm Worried I Can't Afford Insurance. What Do I Do?
1 in 6 Americans can get a Health Insurance Marketplace plan for less than $100 a month and 87% of people who selected marketplace plans for 2015 got financial assistance.
You may qualify to receive financial assistance with monthly premiums and lower out-of-pocket costs:
You have household income between 100% and 400% of the Federal Poverty Level or you make less than 100% FPL but don't qualify for Medicaid because you're a resident and haven't live in the US for 5 years, AND
You can't get health insurance through your job, AND
You don't have Medicare or Medicaid, AND
You file taxes jointly if married.
To receive:
Help paying for monthly premiums
Lower out-of-pocket costs
Household Size
Yearly Household Income

(100%-400%)

Yearly Household Income

(100%-250%)

1
$11,770 – $47,080
$11,770 – $29,425
2
$15,930 – $63,720
$15,930 – $39,825
3
$20,090 – $80,360
$20,090 – $50,225
4
$24,250 – $97,000
$24,250 – $60,625
5
$28,410 – $113,640
$28,410 – $71,025
6
$32,570 – $130,280
$32,570 – $81,425
Enroll Wyandotte partners:
Area Agency on Aging Wyandotte/Leavenworth
El Centro
The Family Conservancy
Historic Northeast Midtown Association (HNMA)
Juntos Center for Advancing Latino Health
Kansas Association of Medically Underserved (KAMU)
Rosedale Development Association
Swope Health Services
Wyandot Center
WyCo Health Department/Healthy Communities Wyandotte
NBC Community Development Corporation
Enroll Wyandotte Supporters:
Center for Medicare and Medicaid Services (CMS)
Health and Human Services (HHS)
Kansas City, Kansas Public Libraries
Mid-America Regional Council (MARC)